Safe & Effective Products
February 3, 2015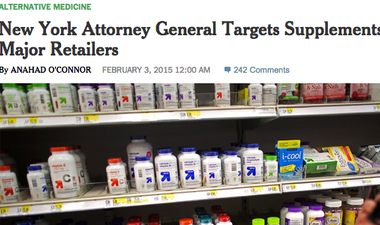 By Mark Hoch, M.D.
Your Health and Safety is #1 at Family to Family
Below is a link to an important article on nutritional/herbal supplements. At Family to Family we know that all products are not created equal and all companies are not of equal integrity.
As seen here (NY Times and also in the Washington Post) many products on the market had none of the claimed active ingredient and some had potentially harmful ones including wheat in "wheat free" products. We know this is a big problem and want you to know that we put your health and safety #1 when we pick products to meet your health needs.
All products that your Family to Family physician recommend have been vetted for quality, purity and dosage. We put our combined 85+ years of research with biochemists, master herbalists, and researchers, helping to design nutritional supplements, laboratory experience, clinical practice with real people, and helping design educational programs for physicians at the national and international levels to work for you.
The companies we work with have high standards of quality so you can be assured you're receiving the exact product you need, in the correct form (highly absorbable and usable by your body), in the exact dose, and without allergens or unsafe ingredients or toxins.   Cheap and fake or does not work and unsafe at any price is not worth it for you or your family.
Click here to read the New York Times article. 
To your best health and a trusted relationship between you and your doctor,
Mark L. Hoch, MD
Family to Family
Co-Chair Past President's Council, Academy of Integrative Health and Medicine
Founding Diplomate, American Board of Integrative/Holistic Medicine