Voices of Wisdom
May 18, 2016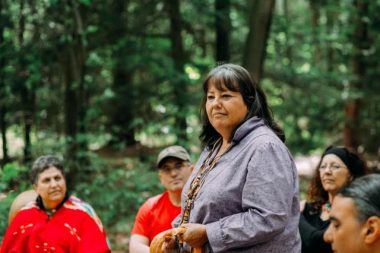 "The wisdom of the past is the seed of the future" – Sacred Fire Foundation.
For thousands of years humans have gathered together around the fire for light, warmth and connection. Voices of Wisdom, an offspring of Ancient Wisdom Rising, is a new regional event that brings communities together with  traditional elders and wisdom keepers.
In these times of great need and change, this event is an opportunity to sit in circle and listen to the elders, to each other and to the fire; and to reconnect with the land and the spirits of the place where you live. Being in the presence of this embodied wisdom can teach us about the value of community,  how to improve our relationship with nature, offer respect and gratitude, and learn how to " listen" to and connect with the world around us.

You are invited to experience a local Voices of Wisdom event, May 21 & 22, 2016  with native elders Diane Longboat (Mohawk) and Wanbdi Wakita (Dakota) at the Sacred Fire Council House in Weaverville, NC.
This medicine gathering is hosted by the Sacred Fire Foundation in collaboration with local firekeepers Lisa Lichtig and Patrick Hanaway who care for community and sacred fire at this hearth as well as being physicians at Family to Family.

Saturday, May 21st 2016: Noon to 8:00 pm, including potluck dinner.
Sunday, May 22nd 2016: 7:00pm to 10:00pm
Why should we attend? " Elders like these are the living embodiment of traditions that have lived connected to the world for thousands of years," says local traditional healer and musician, Scott Sheerin, who is also the event coordinator for the Foundation's international work.
The event's unique format provides a beneficial experience of bringing the wisdom of these elders back into your own life at home. Saturday's teachings around the fire (noon to 8pm, including potluck) will be followed the next night (7-10pm) by a special fire exclusively for those who attended the Saturday event. How did the voices of the elders affect us all? What has come up? How will this wisdom affect and change our lives from now on?
Come join us and share with your friends this opportunity to step outside of "modern" viewpoints into an ancient, universal worldview.
REGISTRATION: http://bit.ly/voicesofwisdomasheville2016
Mountain Xpress article:  http://bit.ly/indigenous-elders-asheville2016
Facebook:  https://www.facebook.com/events/223061531379257/
Children: are welcome for no additional fee
Onsite Lodging: camping as well as indoor lodging are available, contact [email protected] to arrange.
More info: Contact Scott Sheerin 645-1003, [email protected]