Listening – A sound basis for healthy relationships
Even before COVID – 19 became a pandemic, musician and sound-healing coach Daniel Barber designed a free online summit — "Your Music, Your Way". He interviewed 30 different leaders, musicians, healers speaking on the topic of navigating mystery through improvising with sound — including me.
Based on the suggestion  from a mutual friend, Daniel asked to interview me for this summit. My first response was, "What could I contribute to this topic that would be helpful or meaningful;  especially given I'm not a musician or an expert on sound?" That was fear speaking and it felt BIG.  Then it dawned on me. I am being asked to find courage in the face of fear; we all are. Choosing courage in the face of doubt or difficulty has guided me well. Courage helps me listen and guide patients to fundamentally change their diet or lifestyle; look deeper; and let go in order to improve their own health and well being.
As I spent time exploring this topic, it became apparent that it would be best to speak about something I'm passionate about and experienced with — deeply listening to our relationship with ourselves, each other and the natural world. Through the process, I discovered that we all are musical, in our own way.
Little did I realize that 1 month later, a veil that's been hiding our fears would be lifted all over the globe would.  We would be asked to pause and listen more deeply than perhaps we ever have before. I pray that we will use this opportunity to better tune ourselves as a species and make music together moving forward with life.  No doubt, we are interdependent.
I invite you to listen to a talk I gave Tuesday, March 17, 2020. Its a bit long (almost 90 minutes) so you may want to settle in with a cup of tea, go for a walk or listen while weeding your garden.  Don't miss the poignant story I tell at the end of the interview.
With heart,

Another way to listen: Feel-think – A Simple Guide
MORE RESOURCES TO SUPPORT YOU
Free Functional Medicine Resources for COVID-19:   My husband, Dr. Patrick Hanaway is leading a task force of amazing  physician leaders and educators to create grounded information for doctors and patients.
Listening Sessions with Dr. Lisa:  I would love to help you navigate life, COVID-19 or health in general in a deep, meaningful and relevant way. It starts with listening.
Let's explore your concerns together in a space of deep listening (yes, via phone or video).
Open to the public. You do not need to commit to becoming a new patient to qualify.
Sacred Fire: This international non-profit supports humanity's connection to heart through fire.  Sacred Fire responds to the isolation and separation being asked of humanity during the time of the COVID-19 pandemic by offering;
Mara'akame Rap:  Enjoy these lyrics to this song that I speak about in the video. Perhaps someday I'll find the courage to record it.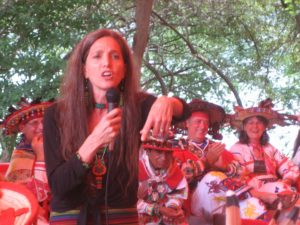 Elders before us in your feathered hats
Thank you once again for showing us the path
To a life filled with purpose
Connection with Divine
Gratitude for everything
Including this rhyme.
I want to take a moment
And gift you with this songing
Cause  I want you to hear
That my hearts been longing
To express my deepest gratitude
That has no words.
Still I'm tryin to grasp
For something to say
That makes sense of
All the dismay, of our people
Who've you've come to help
Yeah our people
Really need your help.
You've made sacrifices
Beyond what we can see
This is the way the Gods
Want it to be.
To keep us humble and out of your mess
Trust our mara'akate to do their best
And let the Gods take
Care of the Rest 
Yeah let the Gods take Care of the rest.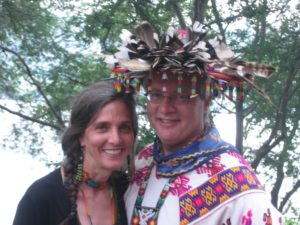 Today we honor
You who came through
The door that was opened to the Place of the Blue
The Bulls gave their life blood
To open the eye
Of the needle you squeezed through
To help us get by
But the biggest sacrifice is yet come to come
Cause a mara'akame's life is not their own.
Now let me  take a moment to say a bit more
Bout my husband who just walked through the door
Marakame Patrick, you've taught me so much
I still melt, when our lips touch.
I used to be stingy, with the bounty of our lives
Bitching at you to make things right
With our boys, our practice, and much other stuff
But there came a time when enough was enough.
Through your eyes
I can feel
An abundance of love
That is real
Moving through our hearts, our hearth and our home
And on into this life that the Gods have shown.
You've been through the fire
The gauntlet of the Gods
Came out a Shaman… what are the odds?
But this is NOT a game of math
with a soul (heart) like yours
you were born to walk this path.
Learn from these teachers
Healers and guides
Showing by example
An acceptance of life.
Brothers and Sisters we've all come here
To keep alive what is precious and dear
Huichol Ancestors have shown us the way
And we each play a part
In the Gods display.
Yo…. Say that again
Sista bring that again
Before this music comes to an end
That gratitude thing
Which makes life sing
How 'bout you start
Where we each play a part.
Brothers and Sisters we've all come here
To keep alive what is precious and dear
Huichol Ancestors have shown us the way
And we each play a part
In the Gods display.
Thank you Grandfather Fire, Tatewari
La Laguna, the birds and the trees
The deer, the ocean, the sky and the stones
Thank you to the Gods for bringing us home.