Section Menu
Lisa Lichtig, MD and Mara'akame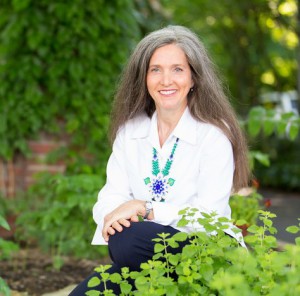 Calling upon our training and life experience, my husband and I opened Family and Family in September 1999 as a place for you and your family.
A place you can come with your health concerns and feel safe and at home, listened to and cared for.
A place where you can receive care from a variety of holistic medical doctors or attend classes that support health and well being.
A place where possibilities and choices exist.
WHAT I OFFER
I see men, women and children of all ages for integrative functional medicine consultations.
I also specialize in caring for infants and pregnant couples.  Supporting them in holistic infant care, parenting skills and coaching/counsel to meet the experience of pregnancy and birth with wisdom, skill, perspective and heart.  I call this heart of birth and parenting consultations.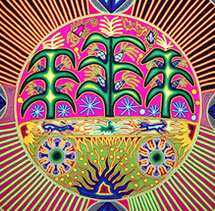 Finally, I offer traditional healing and counsel as a Mara'akame, initiated healer in the Huichol shamanic tradition.
In 2010, I chose to formalize my credentials as a holistic integrative medical doctor by sitting for the national board certification exam.  In 2018, I completed the IFM Certification Program, which is the highest level of education available in Functional Medicine and am now an IFM certified practitioner.  I continue to fine tune my skills as a physician through additional training in functional medicine so I can be more effective in helping my patients get to the root of things and join a community of amazing physicians around the world.
A BIT MORE ABOUT THE JOURNEY TO BECOME A HEALER
The Beginning…..
I have been called to healing and helping people most of my life.  I first began learning about imagery and healing as a senior in high school when my best friend's mom was dying of pancreatic cancer.
In college,  I  began studying imagery and healing with Dr. Bernie Siegel and Dr. O. Carl Simonton. I continued exploring the role of cultural beliefs in healing while studying anthropology at Northwestern University.
It became clear that rather than writing a PhD dissertation on indigenous healing systems or digging up ancestors' bones, my calling was to serve living people as a physician.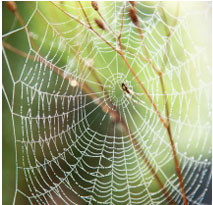 I graduated from the University of Michigan Medical School In 1990. Prior to residency training,  I spent a year in Nigeria, West Africa as an international health fellow and was involved in a variety of community-oriented primary care programs.
It was quite an experience but there was not doubt that we weren't "saving" Africa.  I was saving myself from the illusion and grandiosity of becoming an expert in helping others or that paternalistic organizations can really make a difference.
I was gifted with a deeper experience of the relevance of human friendships and how essential community is for sustaining life.  I also met the Sun, the Earth, the Moon and Water in a new way.
I went on to specialize in family medicine at the University of New Mexico Residency Program. During my residency I had the opportunity to  spend time in India and Nepal helping coordinate acute medical care in rural settings along with receiving Buddhist teachings.
Family……
When I became pregnant with our first son in 1992, I courageously took a leave of absence from the rigors of residency training so I could dedicate myself to pregnancy and parenting  and learning about the laws of nature.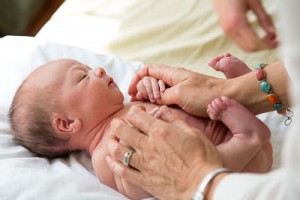 During that time,  I also studied and became a clinical herbalist under the guidance of Dr. Tieroana Lowdog at the New Mexico Herb Institute.
In 1992, after the birth of our first son, we moved to rural Bethel, Alaska where I devoted myself to being a mom while also teaching Yupik and Athabascan village health workers.
After the birth of our second son, it became time for me to return to residency training so that I could complete the credentialing process that would give me permission and experience to effectively attend births.
In 1996, we moved to Asheville where I completed Family Medicine training at Mountain Area Health Education Center (MAHEC).
Birthing…
Personally and professionally, I have come to know birth as a sacred rite of passage. I birthed both of our sons at home and have attended over 800 births in the hospital and at birth centers working closely with midwives and training family medicine residents.
In July 20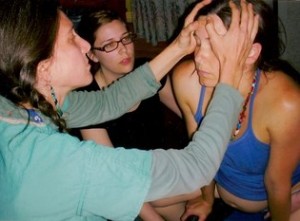 15,  I stopped "catching babies"  so that I could focus on other aspects to support pregnancy and parenting.   It continues to be a privilege  to care for families through this transformative process helping them touch and relate to the Divine Mystery guiding this primal and ancient aspect of life.
After completing my residency training, I felt compelled to deepen my relationship with plants and their role in healing through training in plant spirit medicine with healer, Eliot Cowan in 1998.
Next Steps in the Journey…. 
In 2000, I was called to the medicine path of a traditional healer in the Huichol lineage under the guidance of Tsauirrikame Eliot Cowan.
After a long and humbling 15 year apprenticeship in this shamanic tradition,  I became initiated as a Mara'akame (medicine person) in 2014 in a traditional ritual led by Tsauirrikame and attending shaman, Don Jose Sandoval at La Laguna in Santa Maria Del Oro, Nayarit, Mexico.
This means that I have assumed the responsibilities of a tradition holder of this lineage for the benefit of helping others.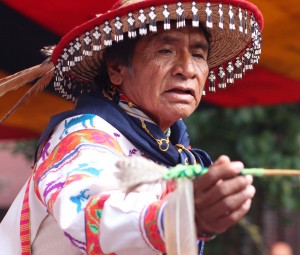 In September 2015, I was further inducted into the Temple of Sacred Fire which authorizes me to work as a traditional healer.  Tsauirrikame  Don David Wiley continues to help me deepen in my capacity to help others in this traditional medicine way.
Now I offer individual healing sessions to people who long for reconnection, balance and alleviation of suffering in their lives.   Traditional shamanic healing sets things into motion to bring about balance.   In addition to individual healing sessions, I am called upon to work with rituals and ceremonies that guide community to reconnect with the living, singing world throughout the various stages of life.
Immersed in the friendship of nature and guidance of traditional indigenous wisdom, I am compelled to dedicate time as a volunteer for a number of non-profit organizations which nourish the poverty of spirit so prevalent in our world today. As a leader within the Sacred Fire Community, I serve community as an initiated Firekeeper offering regular monthly fires for those longing for reconnection with heart and a sense of community. I lead Neikame – The Heart of Birth Program and am a ritual leader for Sacred Emergence: Initiation into Adulthood for Young Women, both Lifeways experiences offered through the Sacred Fire Community. Finally, I volunteer for the Blue Deer Center –  helping to build meaningful relationships with donors.
I live with and care for 30 acres of land on a beautiful knoll in rural North Carolina along with my husband, Patrick Hanaway. I am also the mother of two exceptional young men.
While trained through a variety of Universities, programs and lineages, my education truly comes from deeply listening to people and to the Divine living world.
Gratitude…
I am so grateful to my teachers and to the native people and lands of  Nepal, India, Nigeria, Alaska, New Mexico, an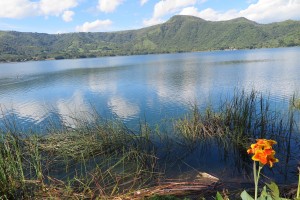 d Western North Carolina and especially the Huichol people in the Sierras of Central Mexico.
This life is about joyful service to people in need of healing, to the traditions that help bring balance to the world and to community.
My work is my play and when I'm not at the office or traveling, you can find me sitting around a fire, talking to plants and animals, singing with the sun, walking to the river or goofing around with my husband, Patrick, and our sons, Wilkin and Devin.  This also brings me great joy in life.
In Peace and Health,